Rock Stars of Freewriting
As I wander around in cyberspace, dropping in on websites and blogs about creative writing, I often see freewriting recommended as a sort of emergency treatment for writers who are stuck, stale or blocked.  I absolutely agree that freewriting is very effective for blasting through apathy, doubt and pedestrian thinking, but my approach, like the two superstars I want to talk about here, puts freewriting at the very centre of the writing life.  For Peter Elbow and Natalie Goldberg, freewriting is not a sticking plaster or a last-resort stiff whisky, it's the place where creativity lives or the food and drink that keeps it alive.
Peter Elbow and Natalie Goldberg, however, have very differ
ent personalities.
Peter Elbow is the David Bowie of freewriting: always ploughing his own furrow, and continually willing to embark on a new path to achieve a creative breakthrough.  He is erudite and likeably modest in character.  Being an academic more than a creative writer, he has a cerebral, carefully constructed style that is all his own.  His long and contradictory, self-authored, route to being one of the best-known teachers of writing is like the series of invented personas that Bowie has inhabited from Ziggy Stardust to the Thin White Duke.
Natalie Goldberg, on the other hand, is the Jimi Hendrix of creative writing.  She bases her teaching on hours of practice but her style is bold and free, and she encourages her students to travel with her on psychedelic journeys to the eye of the storm.  Her roots are
similar to Hendrix's alternative 1960s scene, but her drugs are meditation and the teachings of Zen Buddhism.  Both Goldberg and Hendrix are rule-breakers, and Goldberg's book about inappropriate sexual relationships within certain Zen communities resembles Hendrix's transgressive and unforgettable gesture of setting fire to his guitar at the Monterey festival in 1967.
Along with these different personalities come different philosophies and uses for freewriting.
Peter Elbow advises regular freewriting as a way to get fluency, unselfconsciousness and, most importantly, to get words on paper, which is the first job of the writer but sometimes the hardest one of all.  In Writing Without Teachers he says that "freewriting makes writing easier by helping you with the root psychological or existential difficulty in writing: finding words in your head and putting them down on a blank piece of paper".  He also calls it "push-ups in withholding judgement" meaning that by freewriting we can learn to suspend the critical, revising, faculty while giving free rein to creativity.
But in the end, and despite his extensive studying and thinking about the subject, Elbow has to admit that the process by which freewriting leads to powerful writing is mysterious.  Freewriting exercises don't produce powerful writing every time, he explains, but doing freewriting regularly awakens the ability to write powerfully.  In other words, "freewriting gradually puts a deeper resonance or voice into your writing".
For Natalie Goldberg, writing is a spiritual practice and publishable novels, poetry or memoir are not as important as the core message of waking up to your life and as she puts it "writing down the bones" meaning (I think) to witness and record the specific, transient details of your individual experiences but in such as way that you put the ego aside and contact higher energy or truth.  Nabokov's command to writers to "caress the divine details" fits perfectly with Goldberg's philosophy.  She also brings the disciplined approach of meditation to writing and to write with no self-criticism and with complete focus on the moment is for her a spiritual practice.  Hence she calls freewriting "writing practice" (versus the sitting practice of Zen).
Unlike Elbow, who is chiefly concerned with using freewriting to produce good, publishable writing, Goldberg sees the bigger picture and her aim is nothing less than enlightenment.  At the same time, however, she values literature very highly, recommends learning from the best writers and is keen to see her students succeed as authors.  Writing practice, which is done by keeping the hand moving, not worrying about spelling, punctuation or grammar, losing control and avoiding getting logical is, she says, a way to "burn through to first thoughts, to the place where energy is unobstructed by social politeness or the internal censor, to the place where you are writing what your mind actually sees and feels, not what it thinks it should see and feel" (Writing Down the Bones).  And these "first thoughts" are the source for strong, original writing.
There are more similarities than differences between these two rock stars of freewriting.  Both emphasise the need to keep reducing expectation until the writer finds a level where it is possible to proceed with unselfconsciousness and freedom from negative thoughts.  Both recommend discipline and structured practice which is timed and often themed.  And neither can entirely explain why the simple, apparently pointless activity of writing down a stream of nonsense on a page for ten minutes every day or so can help all kinds of people improve the quality of their writing and lives.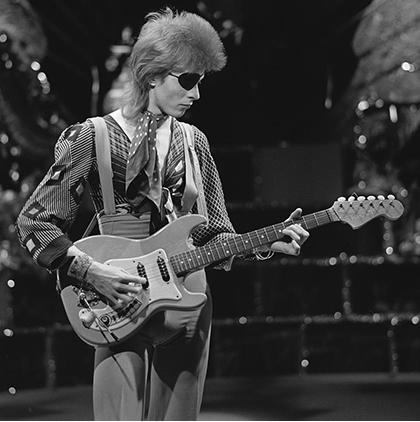 If you are a fan of consummate professionalism and a highly visible persona, then Peter Elbow (and maybe David Bowie) is the one for you.  If you are on a spiritual quest and you are willing to risk a complete personal transformation, then head towards Natalie Goldberg, and maybe give Voodoo Child a try too!
I'm not any kind of rock star (although someone was kind enough to say I had 'presence' when Hopewell Ink performed at the launch of our new CD last week), but I have a firm belief in the benefits of freewriting and several reasons to commit to carrying on with it.  As I've mentioned, freewriting is my laboratory and has produced the experimental compounds that have formed the basis of novels, poems and essays, as well as everything from life-changing decisions to choosing which outfits to wear in the evening.  Freewriting gives me writing topics, characters for fiction, images and metaphors, as well as confidence and stability as a person.
In preparation for writing this post, I looked through one of my freewriting notebooks and tried to find examples of how freewriting had been directly useful to me.  Instead of something that could form the basis of a philosophy like that of Elbow's or Goldberg's, I found some details that I had recorded about my mother, who died thirty years ago.  These memories, which I might well have lost had I not scrawled them down a few years ago in the middle of a piece about something else, found their way onto the page because I was freewriting.  To my joy, my mother came alive again for a moment, in my mind's eye.  And I can't imagine any better reason to practice freewriting than that.
Picture credits (creative commons via Wikipedia, with no alterations made): Bowie as Ziggy = Rik Walton; Bowie as the Thin White Duke = AVRO; Hendrix on Dutch TV = A. Vente; Hendrix in 1968 = Steve Banks.
https://www.freewriterscompanion.com/wp-content/uploads/2019/03/Hendrix.jpg
300
300
Kathy Hopewell
https://www.freewriterscompanion.com/wp-content/uploads/2021/02/Full-Logo-2-lines-300x84.png
Kathy Hopewell
2019-03-01 09:00:35
2021-02-16 16:15:51
Rock Stars of Freewriting