My students say yes, it certainly does!
Most creative writing courses will have an element of rough, initial drafts done either in the classroom or as part of the process of producing work for assessment.  The course I have just finished teaching, however, put the practice of doing intense, short bursts of unplanned writing (a technique known as freewriting) at its very core.
In every class I included at least two freewriting sessions and advised my students to do a ten-minute freewrite every day if at all possible.
The students did not share these freewritten pieces of writing with each other but used them as the raw material for on-the-spot short passages to share, or as the starting point for the completed pieces of work that they read out in the final session.
Sometimes I would give prompts, and sometimes we would generate prompts by creating, and then picking out at random, folded-over slips with short phrases on them.
There was a lot of laughter and the work that resulted was fresh, original and surprising.  In fact, when I asked the participants to reflect on the experience at the end, the commonest reaction was their surprise at what they had produced.
Here are some of the written comments that the students made at the end of the course, quoted with their permission, on how freewriting worked for them.
The Element of Surprise
The first three students quoted all talk about the pleasure of surprising themselves:
"It's a way to give yourself permission to write with almost no expectation of any particular result, so that there is surprising joy to be found in what results.  It's like opening a door to a creative area of the mind and just letting words flood out.  I have surprised myself at what has come out both in terms of subject and content.  I have discovered a narrative voice and am excited to allow it future 'ramblings' as I find I am pleased in a writerly way with what comes out.  Who knew?"
"Freewriting has got me writing, and with regular freewriting I am developing my 'writing muscle'.  The no-stopping rule does seem to improve my thinking and I've been surprised at some of the ideas that have emerged from the process.  Using freewritten pieces to work up into finished pieces was much more enjoyable and effective, I felt, than working in a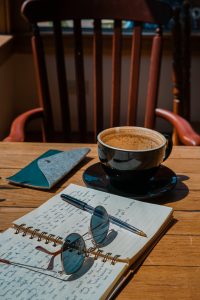 ny other way."
"The freewriting exercises have allowed me this freedom to just write — computers so get in the way of the process.  Freewriting really surprised me: I am a writer!  OK, so never a professional but someone who enjoys words, just as I did as a child.  I can see that there is still so much that I want to tap into and to use my unconscious and dreams to inform further art work."
Silencing the Inner Critic
As you see from that last quote, some of my students were practicing visual artists and they noticed that freewriting was having good effects on this area of their creativity too.
One of the benefits of freewriting is to silence or circumvent the negativity that so often bedevils the inexperienced (and, indeed, experienced) writer, and several students reported that this was indeed a genuine and valuable result of freewriting:
"I found the process of freewriting a great opportunity to just let go.  It allows the mind the opportunity to gush out thoughts and importantly to ignore the 'critical mind' which can interfere with both writing and art work."
"Freewriting does indeed get you going!  As someone who used to be paralysed by the blank page I could not now do without it.  Freewriting has put 'life' in my writing, particularly in character description.  I seriously doubt that I could have accessed this with my conscious thinking mind."
"Freewriting has definitely been great for getting me writing.  I've often been crippled by not knowing where to start, or what to write about. But with freewriting there's no choice or decision.  You just write.  And yes, it turns out that you do feel more like a writer when you're actually writing rather than just thinking about writing.  I found that the interaction, or balance, between giving the mind freedom to roam while actually having to get those thoughts down on paper was a really useful exercise in being open to new ideas."
"Freewriting has loosened up my mind.  I've gained a lot of pleasure and fulfilment from realising I could produce creative words and express a whole range of feelings and thought without the need to keep 'stepping back' in critical reflection, indeed self
censorship, during the actual first draft.  Although I can draw on crafting after the first go, I'm now able to 'let rip' without the need for over-thinking which had been blocking my expression."
Finding Your Voice
One of the key, mysterious, qualities of good writing is "voice", and freewriting seems to be a good way to 'find your voice', as this student discovered:
Freewriting lets you 'speak on paper'.  I mostly hate my carefully-constructed writing: it ends up not sounding like me, which is often disappointing because in my head I am clever and hilarious.  Freewriting is, I think, helping me sound more like the me I know I am."
Joy
In short, enjoyment and confidence were the overall results of the course and I couldn't have been more pleased to read these comments:
"Freewriting has been helpful in kick-starting imaginative writing.  I have enjoyed finding out where my weird imagination might take me."
"I've found freewriting frees the mind and makes me feel like a writer.  It takes away the fear of the blank page, and procrastination.  It gives me confidence."
Try It Yourself!
If you'd like to try freewriting with me, have a look at my online courses which are a series of videos to watch on demand and are yours for a year.  In each lesson you'll be freewriting with me, in real time.  There are lots more details here.
https://www.freewriterscompanion.com/wp-content/uploads/2019/08/Kyffin-cafe-group.jpg
300
300
Kathy Hopewell
https://www.freewriterscompanion.com/wp-content/uploads/2021/02/Full-Logo-2-lines-300x84.png
Kathy Hopewell
2019-08-01 09:00:52
2023-10-28 13:46:31
Does Freewriting Work?