Liverpool Tate's summer exhibition is called Life in Motion and places paintings by Egon Schiele next to photographs by Francesca Woodman.  Schiele was Austrian, working before World War One and Woodman was American, producing her photographs in the 1970s.  Arguably the only thing that links them, apart from the predominance of self-portraits in their work, is the sad fact that both died in their early twenties.  I went to the Tate solely to see the luminous, wonderful and unique work of Francesca Woodman who was influenced by Surrealism (and afterwards dutifully looked at the pitiless, misanthropic but technically brilliant work of Schiele).  No surprise then that it's Woodman's work I'll be describing here.  I'll be considering her as a woman photographer, an inheritor of Surrealism and in terms of the way she affects me as a viewer.
Woodman was working long after the "classic" period of Surrealism in the 1920 and 30s but was a devotee of Dada and Surrealism as a child, and later was particularly affected by the placement of the banal but suggestive documentary photographs included in Breton's book Nadja.  Her most obvious debt is to the many surrealist photographic techniques of long or double exposure, manipulation of light and many other methods designed to produce the strange and unsettling effects used by Man Ray for instance.  But her strongest link with Surrealism is with a specifically female tradition of the self-portrait (often nude) which includes Frida Kahlo, Leonora Carrington and Léonor Fini among others.  The amazing work of Claude Cahun who, in photographing herself, played with every aspect of her identity (most especially her gender) is surely Woodman's direct artistic ancestor.  These female surrealist predecessors are just as important as the 1970s context of feminist performance art by women such as Carole Schneeman which created the conditions for women to take themselves as the subject of their art.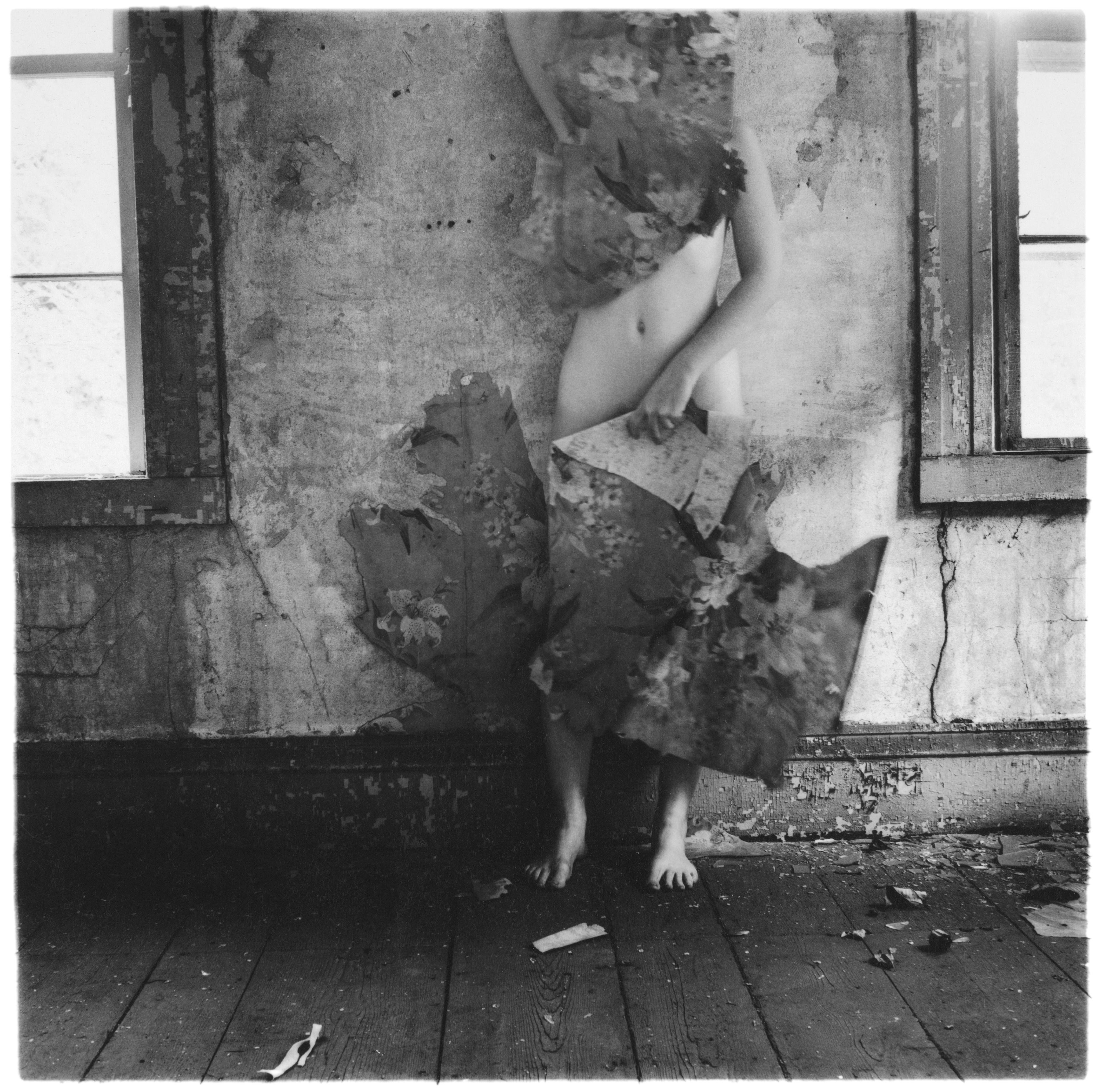 Woodman was born in 1958 in Denver, Colorado to artistic parents and her 'career' as a photographer began at 13 years old.  After high school she took an honours degree at Rhode Island School of Design, which included a year in Rome.  She spent some time as an artist in residence in Peterborough, New Hampshire, and was living in New York at the time of her death.  She was 22.  In less than nine years, then, she achieved a body of work including between 500 to 800 pictures, of which 180 are in circulation as well as three books combining words and photographs and some video projects.  Despite the fact that much of this was created when she was barely out of her teens, she has been described by Kris Somerville as "one of the most original artists of the 1970s and among the most influential photographers of the late twentieth century".  You might say she was a kind of Mozart of the camera.
Woodman's first photo, taken at age 13, already has the signature style and basic ingredients of all her future work.  It's a self-portrait as the majority of her photographs are and her face is obscured as it often is, although here the effect of the hair covering her face is comical as well as mysterious.  As Brian Dillon link says, it's as though she's channelling Cousin Itt from The Addams Family!  The setting is characteristic too: a domestic interior made strange by the
way it's been set up and furnished, and the use of streaming natural light and blurring.
Woodman's main project, it seems to me, is to make herself strange to herself in as many ways as possible.  She seeks to reconceive, extend, or de- or over-sexualise her body as a way of claiming it for herself.  Her longest visual conversations are with domestic spaces which threaten to swallow her whole.  She puts on old-fashioned clothes to pose questions about her role as a modern woman.  She wears little-girl shoes to ask if she can be a child or to issue a riposte to their use by Hans Bellmer in his series of fetishistic schoolgirl doll photographs.  For me, the repeated photographing of her own body gradually and thoroughly takes back the male-defined imagery of women as perverse object or anonymous muse found in Surrealist art.
Woodman's pictures are staged and carefully composed.  She is not really in disguise, like for example Cindy Sherman, who impersonates others such as the femme fatale film star, or characters in historical paintings.  Sherman, who was born in 1954 and is still working, has spent her entire career making herself into other people.  In contrast, although there is often a moment of uncertainty when viewing a Woodman self-portrait for the first time as you try to determine if it is indeed of the photographer herself, she is always recognisably the same person.  But she repeatedly transforms herself.
Often, it's the physical environment that is the cause of the transformation as if to say that our identity is created by the spaces we inhabit.  The third image from the series House (1976) presents a dilapidated room in a derelict house in clear focus but Woodman is, characteristically, swathed in a blur of light and wrapped in decaying matter.  As in the other image from House I've included above, she is covered by wallpaper that has peeled off the walls, invoking Charlotte Perkins Gilman's story of 1892 in which a confined woman goes mad and believes herself to be a part of the wallpaper of her prison.  Woodman is arrested in motion, about to be engulfed in the long history of domestic confinement and the moment of dissolution seems to pose the question who is this?  Is this me?  It's also strangely beautiful, a sort of dance with light and shape.
Another kind of questioning of identity is via the imitation of objects.  One particularly haunting photograph shows Woodman posed next to a bowl containing an eel.  It's an endlessly ambiguous and fascinating image.  Is th
e eel representative of some phallic threat or promise next to her soft and undefended body?  When I saw the picture in the exhibition it suggested to me the prospect of pregnancy: an uncanny portrayal of something curled up outside the body that might equally be furled inside.  The beauty of the shapes and the textures, the lit edges of the uncanny fish and the homely bowl all contribute to make it a truly compelling image.
I realise that not all viewers at the Tate were as overwhelmed as I was, and that one reason might be the size of the photographs.  They are mostly just 8 by 10 inches or even smaller.   It means that viewing her work is a one-person activity since, as Jane Simon points out, there's really only room for one viewer at a time.  But this only increases the intimacy of the images.  Although the photographs invite you to lean and peer closely, they are not at all voyeuristic, apart from the ones which consciously interrogate fetishism, and then the experience is intellectual rather than visceral, I found.  Also, the square format she favours seems to hark back to Renaissance painting and it repeats the frequent setting of the room with straight lines forming a sort of hard cell for her supple, soft body.
There's no doubt that Woodman's photographs are partly about confinement but by turning her body into so many different things she becomes a series of metaphors (I am covered in bark, I am curled like an eel, I am a wall, a fireplace, a museum exhibit, etc etc).  Woodman's protean incarnations on celluloid proclaim are accomplished, generous, witty and feminine acts of transformation and in this way she moves towards freedom of identity and expression.  Go see them!!
References:
Kris Somerville "Clues to a Lost Woman: The Photography of Francesca Woodman"
The Missouri Review, Volume 33, Number 3, (2010) pp. 79-91
Jane Simon  "An intimate mode of looking: Francesca Woodman's photographs"
Emotion, Space and Society 3 (2010) pp. 28-35
Woodman's work remains the copyright of George and Betty Woodman and the images here are reproduced purely as educational material.  I do not receive any payment or derive any income from this blog.
https://www.freewriterscompanion.com/wp-content/uploads/2021/02/Full-Logo-2-lines-300x84.png
0
0
Kathy Hopewell
https://www.freewriterscompanion.com/wp-content/uploads/2021/02/Full-Logo-2-lines-300x84.png
Kathy Hopewell
2018-08-01 09:39:24
2018-10-29 09:02:00
Francesca Woodman